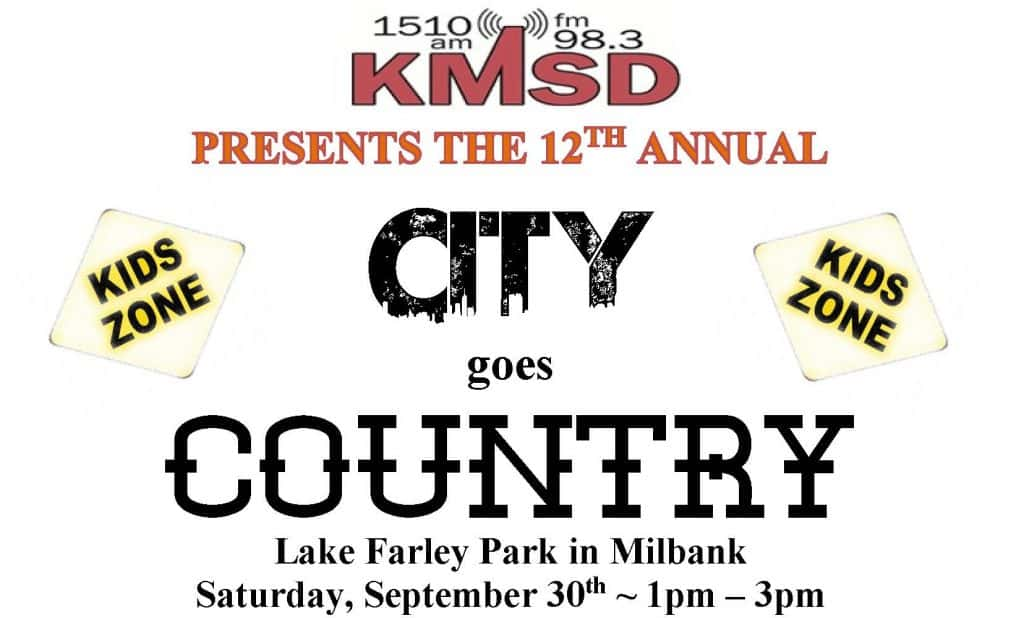 City Goes Country September, 30th 1pm to 3pm
@
Lake Farley Park, Milbank
Free Fun Day – Activities include
Kite Flying, Pumpkin Painting, make Popcorn Balls, Caramel Apples, Temporary Tattoos, Kids Fishing, make a Bird Feeder, Frost Cookies, and much more!
Reminder to Parents: All Children MUST be accompanied by an adult! Also kids tend to make messes when painting the pumpkins and get sticky from the gooey marshmallow and caramel, dress accordingly.
The Milbank Area Chamber of Commerce will have a movie in the park @ 7:30 Bring your own blanket and chairs.
Listen to 1510am 98.3 FM KMSD incase of a change due to weather.
Milbank, United States

77°F

clear sky
Day

Cond.

Temp.
Wind
Humidity

Pressure

Pres.

fri

sep 22

87/78°F
9 m/s, S
53%
726.13 mmHg

sat

sep 23

62/67°F
3 m/s, NE
100%
733.4 mmHg

sun

sep 24

82/65°F
11 m/s, SSW
61%
728.79 mmHg

mon

sep 25

59/43°F
4 m/s, N
-
732.45 mmHg

tue

sep 26

60/50°F
3 m/s, SW
-
732.26 mmHg