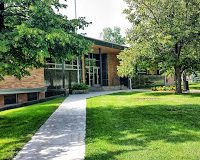 A jury trial is scheduled to be held next month in Day County for a Roslyn man accused of shooting and killing an acquaintance at a Roslyn home in late 2015.
Forty-six-year-old Jason Lewandowski is accused of entering the home of Jeremy Hendrickson, age 33, of Roslyn on November 20th of 2015 and shooting him in the head. Hendrickson was transported to a hospital in Fargo, North Dakota where he died three weeks later.
Following the shooting, Lewandowski led authorities on a high speed chase which ended at an Aberdeen hospital where he was taken into custody.
Lewandowski is charged with premeditated murder, burglary and committing a felony while in possession of a firearm. He has pleaded not guilty by reason of insanity to the felony counts.
During a hearing earlier this week in Day County court, prosecutors presented arguments as to what evidence should be admissible to the jury during Lewandowski's upcoming murder trial.
The maximum penalty for premeditated murder is the death penalty, but prosecutors have agreed not to seek the maximum penalty in the case.
Lewandowski is set to go on trial in Day County beginning October 2nd with the case scheduled to run through October 27th.
Lewandowski is currently being held in the Day County Jail.