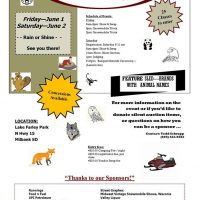 The Whetstone Valley Snowmobile Association will be hosting its "23rd Annual Vintage Snowmobile Show and Swap Meet" on Friday, June 1st and Saturday, June 2nd at Lake Farley Park in Milbank.
The event will run throughout the entire day on Friday and until 3 p.m. on Saturday. Todd Schrupp serves as the primary coordinator for this year's annual vintage snowmobile event…

The show is free and open to the public. For more information about the event, you can contact Todd Schrupp at 605-432-9582. You can also check out their facebook page, as well, at Whetstone Valley Snowmobile Association.