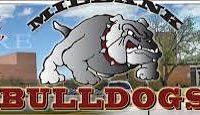 Students and staff at Milbank High School will be in a festive mood throughout this week as they kick off the school's annual Homecoming celebration.
The theme for this year's Homecoming is "Superheroes." Sophia Seffrood, a senior student council representative says she considers every homecoming celebration to be somewhat of a unique and different experience from years past …


Molly Rick, another senior student council representative says the nice thing about homecoming is there's always plenty of activities for everyone to take part in and enjoy throughout the week…

This year's Homecoming Coronation ceremony will be held this (Monday) evening at 7: 30 p.m. in the high school gymnasium. The annual Homecoming parade will take place on Friday at 2 p.m. The Milbank Bulldogs will take on the Groton Tigers in the annual Homecoming football game this Friday at 7 p.m. at A.B. Campbell Stadium.