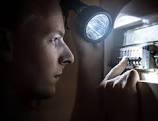 If you live in Milbank and you're an early riser, you may have had more trouble than usual finding your way out of bed this (Tuesday) morning.
Much of the Milbank community experienced an electrical service outage which lasted for approximately two hours before full power was finally restored to the area.
A spokesperson for Otter Tail Power Company says the outage occurred shortly before 6 a.m. when a phase went down at a local substation. Electrical service crews responded to the scene with full power being restored to the area shortly before 8 a.m.
In addition to Milbank, company officials say the community of Twin Brooks was impacted by this (Tuesday) morning's electrical outage, as well. The Milbank School District also decided to start classes an hour late this (Tuesday) morning, but otherwise most homes and businesses in the area returned to normal status once power was fully restored.