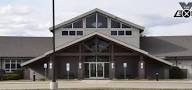 The city of Milbank has continually been looking at new ways of growing the community from an economic standpoint for the immediate and distant future. In order for that to happen, city leaders feel new housing opportunities must somehow be created to better accommodate any increased population growth. Last (Monday) night, the Milbank City Council heard from Todd Kays, Executive Director for the First District Association of Local Governments about available services which the agency offers to businesses and local governments within the regional area to help provide improved growth and sustainability for the future. As part of the overall community development process, the council last month approved a formal contract with the agency for maintenance of the city's geographic information system website. City leaders have continued to work in partnership with the agency in recent months in an effort to find new ways of better growing the Milbank community for the future.
In other business, the council approved the second reading of Ordinance 812, the 2018 supplemental budget. The action transfers $100,000 from the fund balance to accommodate J @ J Land Sales for costs involved with on-site development work at the Valley View housing area on the south edge of the community.
During the monthly police report, it was noted that several complaints have been received of ongoing phone scams taking place in the Milbank community. In some cases, the caller would claim to be from the IRS. One of the more frequent scams in the area has been linked to Walmart with the caller telling the person to go to Walmart and then asking them to send money to a certain location. City and States Attorney Mark Reedstrom says his office has also received a number complains about the issue, as well. It was noted that the scams have typically been a multi-state or multi-national issue with the majority of the scams originating out of Africa, as well as Canada. Reedstrom further noted that anyone who receives such a call is encouraged to contact the Attorney General's Consumer Protection Division at 1-800-300-1984 for further assistance.
In personnel matters, the council approved the appointment of Councilman Mike Hanson to serve on the Consolidated Board of Equalization. The council also accepted the resignation of Dane Larsen as a part-time police officer for the city, effective immediately.